Spray painting fixtures is not a new idea. You'll find tons of inspiration from print to internet but there is still a sense of pride when you finally do it yourself.
I had purchased a builder's grade brass fixture from Habitat ReStore so long ago I don't even remember when I got it. I found it in the attic a while back and got excited about the possibilities all over again! I was doubly excited to see that I had only paid $5 for it. I had been looking online for a reasonably priced chandelier for my daughter's room without success. Nothing really fit her or the direction we were going. Now, all I had to do was not mess it up!
I started by using a gray spray primer on the fixture, making sure that the electrical was well covered. After the first coat had dried I followed up with some matte black spray paint that I had on hand. Unfortunately, I didn't have enough so I had to spring for another 99 cent can. I also bought some additional candle covers since my chandelier was missing several, a can of ivory satin spray paint and some cheapo paint brushes for the custom part of the project.
The candles got a little embellishment to make them match and look less cheap. I applied some hot glue in a dripping wax look then sprayed them with the ivory paint. Little tip, place the candles on a stick for spraying. Those little guys are so light weight they were falling over from the force of the paint spray. I laid the stick across a couple of lawn chairs while the candles dried.
Finally, we come to the artistic part. The part I was sure wouldn't turn out the way I imagined. I used some acrylics that I had in my art box...hahaha, makes me sound like a real crafter. I painted some blue birds perched on a simple branch with a few leaves. It was a lot harder than I was anticipating. Good thing the acrylic paint wiped off easily because it took me a few tries to get something that looked like a bird. I was right, I'm not an artist, but the primitive paint job doesn't look too bad. My bird-crazy daughter thought it was wonderful, which is what really mattered. Helps that she's seven!
The uninspiring "Before"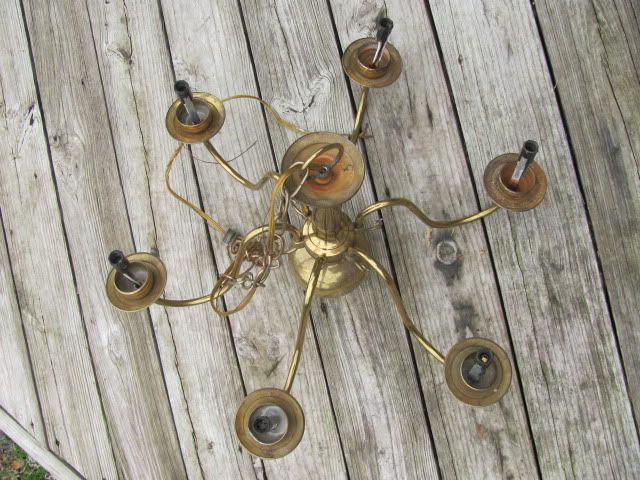 Much better "After"